Restaurants & Bars
Guests staying at Grand Bahia Principe Tulum will embrace the spirit and culture of Mexico. Immerse yourself in the traditional Mayan-inspired buildings and décor as you enjoy all of the luxuries of a modern day resort. Be sure to take advantage of all of the special moments that await you by joining us for an unforgettable meal in paradise.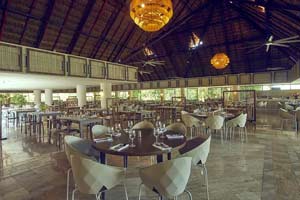 Yucatan Restaurant
International cuisine buffet
Embrace gastronomy as a great wellspring inspired by the intersection of water and land at Grand Bahia Principe Tulum. A gastronomic laboratory for all audiences, with timeless architecture, using ingredients that mark an avant-garde design.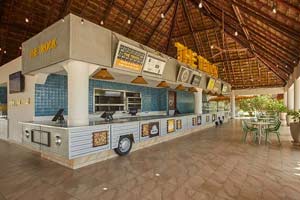 Beach Food Truck
International cuisine
Inspired by the idea of a picnic day, this new service point is integrated into the area dedicated to maximum enjoyment: water park, entertainment area and swimming pools. Integrated in the natural setting, the design is aimed at the use and enjoyment of families, using materials that blend in with the nature, creating an area where they can have direct contact with it.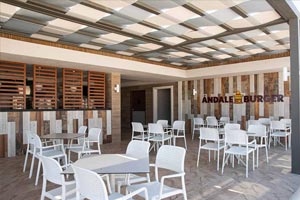 Burger Andale
Fun, enjoyment, convenience.
Mexican fast food based on haute cuisine, traditional and regional, right by the sea.​ The sea as inspiration in its forms and reflections, its fruits as textures and colours. ​All served in a traditional market-style setting with interior design elements that pay homage to the deep sea.
À la carte restaurants for your senses
Explore the best of every world. After a day of adventure in Mexico join us to discover the world of culinary creations. Join us for delicious meals in the middle of a tropical paradise.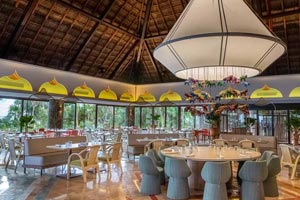 HindÚ Restaurant Thali
Indian cuisine
A wonderful place that transports you to the Far East. The fusion of cultures, the passion for the senses and the best Indian cuisine. The colours and shapes produce a visually striking result with a cosy aesthetic in a relaxed atmosphere.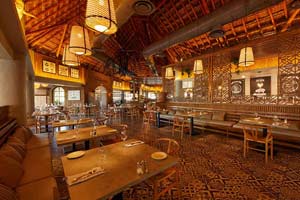 Gran Tortuga
Brazilian grilled meat served Tableside
A setting and environment where you can enjoy a variety of grilled meats served, accompanied by delicious salads. In this restaurant, timber, natural materials, warmth and flavour are perfectly combined.  All this creates a unique seafront setting where you can enjoy this unique cuisine, with its sea breeze and views in the starring role. ​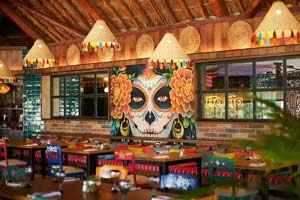 Tequila
Traditional Mexican Cuisine
Tradition, culture and time come together in a unique space framed by the purest gastronomy. Inspired by the tradition of the Mexican markets, with their great culinary culture, colours, smells and flavours, achieving a unique atmosphere where you can enjoy and learn more about this particular gastronomy.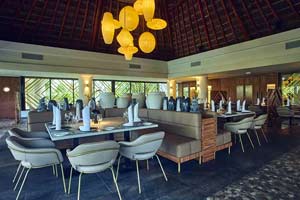 Don Pablo Gourmet
Modernist Gourmet Cuisine
The soul of a true gourmet restaurant in an elegant, sober atmosphere. ​ The noble textures of wood and stone blend in with the fabrics of the furniture. ​ Traditional architectural forms and symbols of the place re-interpreted in the walls and lighting. ​ A distinguished and exquisite restaurant for families, groups and adults.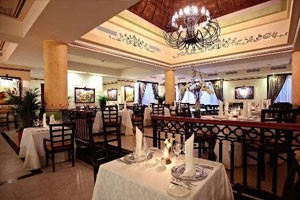 Le Gourmet
Gourmet Creations
Elegance embodied through food. With each bite you take your love for high-end French cuisine will grow.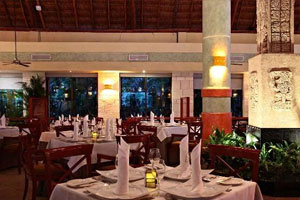 Cozumel
Italian kitchen
Enjoy a unique combination of intense flavours with our traditional Italian gastronomy.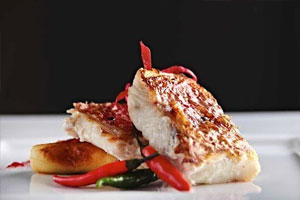 MASHUA Nikkei
Japanese and Peruvian fusion
Delight in a new blend of Asian and Peruvian cuisine. Our experienced chefs combine the traditional recipes that you love with innovative culinary techniques. Their dishes are sure to take your breath away.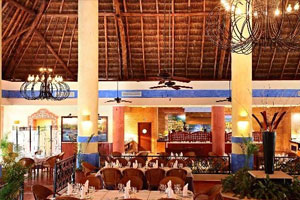 Portofino
Traditional Italian Cuisine
Not your grandmother's Italian.  Our avant-garde style restaurant has taken rustic recipes and placed a high-end flair on them creating an incredible dining experience.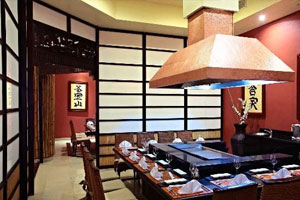 Mikado
Exciting Japanese Cuisine
Continue the fun of the day into the night with an entertaining Tepanyaki dinner show as you watch your food transform before your eyes, or relax in our à la carte regular tables.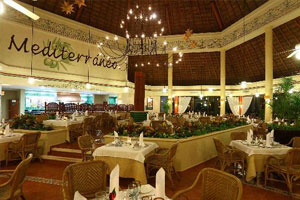 Mediterraneo
Fresh Mediterranean Cuisine
Ingredients straight off the boat from the Mediterranean. Taste the flavors of the coast as you soak in the lush surroundings of the Mexican Riviera.
Bars
Paradise would not be complete without locations where you can satisfy your every need. Enhance every moment with a tropical drink at one of our bars as you share memories and moments together.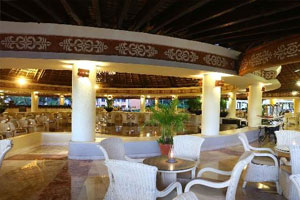 BARS
THROUGHOUT THE RESORT
Refreshment is always at your fingertips.  Whether you are on the beach, by the pool, or on your way to your next adventure there will always be somewhere to find satisfy your cravings.
POOL BARS
Rejuvenate both inside and out as you take a dip in the cool waters and sip on a tropical strawberry daiquiri.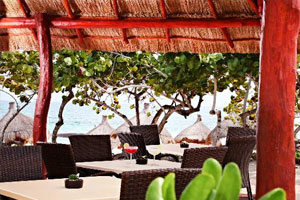 Beach BARS
Put your feet up and relax in the comfortable recliners and enjoy a delicious cocktail as you listen to the roll of ocean waves.